Get your holiday cheer in gear: the office holiday party season is among us.
Holiday office party season is here!! Before you start listing out excuses as to why you can't (or just don't want to) attend, hear me out for a second.
The office holiday party is probably one of your best chances for networking, and one of the best ways to build knowledge on the culture and attitudes which can take you to the top in your company.
I know you may be tired of hearing the Christmas music over the radio, and watching the re-runs of Homealone on TV, but stick it out when it comes to this opportunity. People can't help but be happy at this time of the year, which means that the holiday office party is a seamless transition from office talk to networking.  When you arrive, don't go straight to the corner and open up your phone – put it in your pocket and find an interest in the people around you. Your goal should not only be to spread holiday cheer, but to also learn something new about those around you, and see how you can spread your name within the company. You can easily strike up a conversation about family, holiday plans, the best appetizers at the party, or even just things you are doing at work. Whatever topics you choose, make it your mission to network your way through the night.
My suggestion to you is to approach those in higher seniority at this party while you are given the opportunity. The mood is set for light conversation, which will make it easy and worth your time to work on building relationships with these people. It will show that you have initiative and an interest in the company. It could be your chance to 'write your own promotions' so to speak, or feel out where you may want to be in the future as you grow within your company.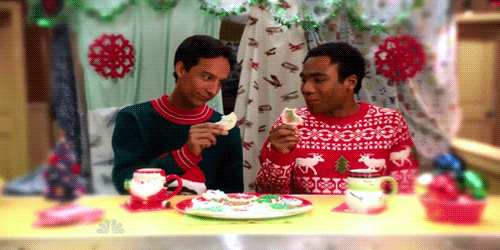 Whether it's the spiked eggnog that does it, or the hundreds of sugary treats that you will consume, gain the confidence to talk to the people who attend. It's unbelievable how easy it is to build relationships with your co-workers when there's free food, and (possibly) free drinks. Just remember to keep it fun, and keep it classy. Happy Holidays ?
Taylor Noble blogged for the Student Success Centre from 2015 to 2016.