April 23, 2021
By: Jeffrey Low
Financial stress can be hard to ignore, especially when tax returns are almost due. Additionally, unstable or limited work and other challenges related to the COVID-19 pandemic have intensified financial pressures, according to the Mental Health Commission of Canada.
For recipients of the Canada Emergency Student Benefit (CESB) or the Canada Emergency Response Benefit (CERB) and individuals who worked from home in 2020, there may also be uncertainty around how the pandemic will impact their taxes this year.
Without adequate financial literacy, what's a Marauder to do come tax time?
Enter the McMaster Tax Squad, a team of student volunteers that provides free, virtual tax services.
With more than 60 volunteer members, the Tax Squad provides consultation services for students and community members to complete their taxes and capture all the credits and benefits they deserve. So far, the Tax Squad has completed more than 200 returns.
For Simon Pereira, Tax Squad volunteer and third-year business student, this community involvement is incredibly rewarding. "It's an amazing feeling to know that I am giving back to a community that I have fallen in love with," says Pereira. "If I can help one resident of Hamilton alleviate some stress during these difficult times, I know it was worth the time and energy."
"There is nothing better than completing someone's return and seeing how happy and excited they are about the refund and benefits they will be receiving," adds Leena Ghazali, Tax Squad volunteer and third-year business student.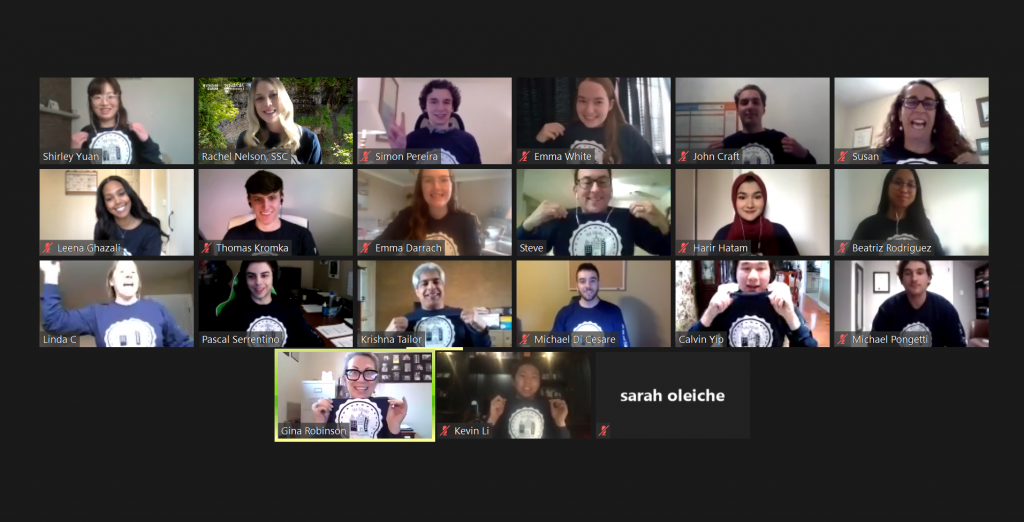 The program is part of Mac's Money Centre's involvement in the Community Volunteer Income Tax Program (CVITP), an ongoing partnership with the Canada Revenue Agency (CRA), Chartered Professional Accountants (CPA) Canada and community partners, including the Hamilton Public Library, Hamilton Dream Centre and Good Shepherd. Leadership is provided by regional Hamilton volunteer tax coordinators Andrijana Olaizola (CPA, CMA), Gina Robinson (CPA, CA) and Rachel Nelson, events and communications specialist.
"This partnership has allowed for a coordination of McMaster and Good Shepherd Women's Services to be able to support vulnerable members of our community and empowering them with accurate and supportive tax assistance," shares Paula M.P., wellness facilitator at Good Shepherd Women's Services. "With the current pandemic, the resourcefulness of the Tax Squad has allowed many women to access this amazing service."
Gina Robinson, director of the Student Success Centre and co-founder of Mac's Money Centre, says that the Tax Squad has become a signature program. "I know will continue for many years to come" says Robinson. "Students love giving back and our community and fellow students need us."
Here's how the McMaster community can access tax support this year.
Drop-in tax appointments for students
Students can sign up for a drop-in tax appointment to have their tax return prepared by a Tax Squad volunteer. More than 70 appointments have taken throughout March and April. Due to the popularity of these appointments, the Tax Squad is offering two additional openings:
Tax drop-offs for the Hamilton community
Throughout April, Tax Squad volunteers are preparing tax returns for at no cost for Hamilton community members with low-to-modest income. Individuals can drop off their tax information at a designated Hamilton location, and a volunteer will prepare their return off-site.
Do-it-yourself virtual tax webinars
Mac's Money Centre hosted a two-part webinar series in March. More than 110 students learned about filing taxes in Canada, the tax impacts of COVID-19 benefits, new tax deductions introduced in 2020 and how to file a tax return using free software, Wealthsimple Tax. Videos of the recorded sessions are available on the Mac's Money Centre website.
COVID-19 tax questions
Students and community members can access Mac's Money Centre's tax FAQ on the website. This resource includes information about the government's new flat-rate method to simplify expense claims for individuals who worked from home during the pandemic, as well as important information for international students who moved back to their home country due to COVID-19.
Visit the Mac's Money Centre website for more information on tax services, including how to register for student appointments, what information to bring, community drop-off dates and locations, and more.